French Immersion Testimonials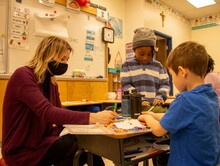 "We chose French Immersion so our children could learn another language to better their skills for the future. We as a family chose faith-based as well because we feel this is something our children can benefit from. Our children come from a family that already speaks three languages and feel French is very important, especially in Canada and something we are unable to teach. We were worried we couldn't help; however, the teachers and staff are absolutely wonderful and helpful to guide both children and parents. We highly recommend French Immersion and specifically, this school. After reviewing all the different schools offered to us, we felt École Camille J. Lerouge School was best for our family given the amazing teachers and an overall sense of community." 
- Parent, Melissa Chow-Lemus
"We chose French Immersion for our son to increase his appreciation of other languages and cultures. This opportunity to learn and become fluent in another language will be a lifelong ability that will benefit our son and his future. The French Immersion program is structured to support children who do not have a French-speaking background at home and we felt comfort in knowing this. One of the best parts about this school is that my son is learning a second language in an inclusive, diverse, and faith-filled environment that supports students with all learning needs." 
- Parent, Selena Frizzley
"We were at a wedding this summer and we're talking with an adult friend. He stated that he was extremely thankful his parents put him in French Immersion because of the opportunities it gave him. This is the exact reason we chose French Immersion for our daughter. We wanted her to have every opportunity available, as a Canadian citizen. As non-French speaking parents, our child comes home excited to share the language with us and enjoys teaching us her expanding French vocabulary. Because our daughter is in Kindergarten we have not experienced challenges as non-French speaking parents. If we do need support in the future, it is comforting to know we have access to resources through The Candian Parents for French Alberta."
- Parent, Melanie Nightingale
"It's helping me develop into a better student." - Nikaya, Grade 9 student
"I would like to become a translator so that I can travel and help people." - Yiting, Grade 5 student
"I am very proud to be able to translate for my parents when we traveled to Québec." - Isabella, Grade 5 student
"It is helping me broaden my perspectives and create different opportunities." - Brady, Grade 9 student
"We feel attending a French Immersion school provides a positive academic challenge for our children. It also provides them a fantastic foundation of a second language, which gives them a bit of an advantage should they choose to learn a third language. Learning French as a second language could help them with finding a job down the road, or be seen as an advantage when being selected as a job candidate. It will also serve to benefit them as they travel the world someday!" - Michelle and Mark Abbott, parents
"I love learning a different language and I'll have it for the rest of my life!"- Julia, Grade 9 student
"If I want to marry a French girl, it'll help me understand her better!" - Noah, Grade 5 student
About Our French Immersion Program
Our school offers a wonderful French Immersion program for students in Pre-Kindergarten to Grade 9. Students are completely immersed in the French language throughout the school day in all core subjects: French Language Arts, Science, Math, and Social Studies. Learning a second language when children are developing their language skills is ideal.
French Immersion is a program of choice and it is open to all children. There are no particular selection criteria and no special fees for registration. Most students are from English speaking homes. In some cases, one or both parents speak French.
Here are some links that may assist you in your decision making:
If you are still unsure about French Immersion for your child, please speak with our school staff. We want you to make the best decision for you and your child.